Pediatric Dentistry
We Love Kids!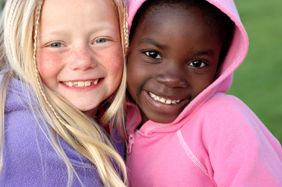 We absolutely adore children and would love to be not only your dentist, but also your children's dentist!  We will go out of our way to make sure that your child's visit with us is a fun one that he/she will enjoy.  Kids laugh an average of 400 times a day, so it's important for them to have beautiful, healthy smiles!
The American Dental Association (ADA) recommends that children see a dentist no later than their first birthday, but reports that only 3 out of 5 children have seen a dentist before kindergarten. By then, over half (52 percent) of 6 to 8 year olds have tooth decay. Decay does not go away, and causes pain that makes it difficult for children to eat, sleep and pay attention in school.
The initial visit to Bufano & Bufano DDS PA for a very young child is a simple screening, and helps to get children accustomed to the dental checkup. We check that early teeth eruptions are occurring properly and that no irregularities are present in the teeth, gums, or tongue.
Regular checkups throughout childhood can prevent serious, life-changing oral health problems and help to train little ones in the importance of caring for their teeth. All of our staff know how to make your little ones feel at home in the dentist's office, and every child goes home with a happy smile.
Children are also at risk for dental injuries because they are constantly active. If your toddler or preschooler takes a hard knock in the mouth or if your Little Leaguer or cyclist takes a bad fall, emergency care is almost always available from Bufano & Bufano DDS PA.