Diagnodent
The DIAGNOdent pen is a hand-held laser caries detection aid.  DIAGNOdent aids in the detections of caries. Even very small lesions are detected at the earliest stage, enabling you to protect and preserve the tooth substance.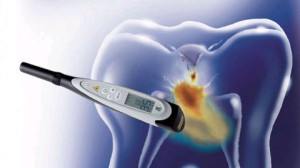 The DIAGNOdent is a diagnostic device that aids the dentist in making treatment decisions with confidence. Unlike traditional diagnostic methods, DIAGNOdent is an extremely accurate and reliable adjunct for the detection of subsurface caries. It removes the guesswork that accompanies many treatment decisions regarding questionable areas, such as stained or discolored grooves.
Accurate – Over 90% accurate in detecting lesions not detectable with an explorer or bitewing X-rays.
Safe – Uses light energy – no X-ray exposure.
Poses no danger to staff and patients. Painless, non-invasive examination for patients.
Using the latest and most accurate caries detection tools (Diagnodent), dental caries can be located and quantified at the earliest possible stages of decay.  This greatly reduces both the amount of tooth structure that needs to be removed and the possibility of incorrectly diagnosing decay when it actually does not exist.  It is a great complementary tool to hand, clinical evaluation.
The Diagnodent is a pen-like probe that sends a safe, painless laser beam into the tooth and checks its health. A number scale and an alarm will signal when there are signs of hidden decay. This allows us to determine if decay is lurking beneath the apparently healthy tooth surface. This technology allows us to catch tooth decay at an earlier stage, before the tooth is destroyed from the inside out.